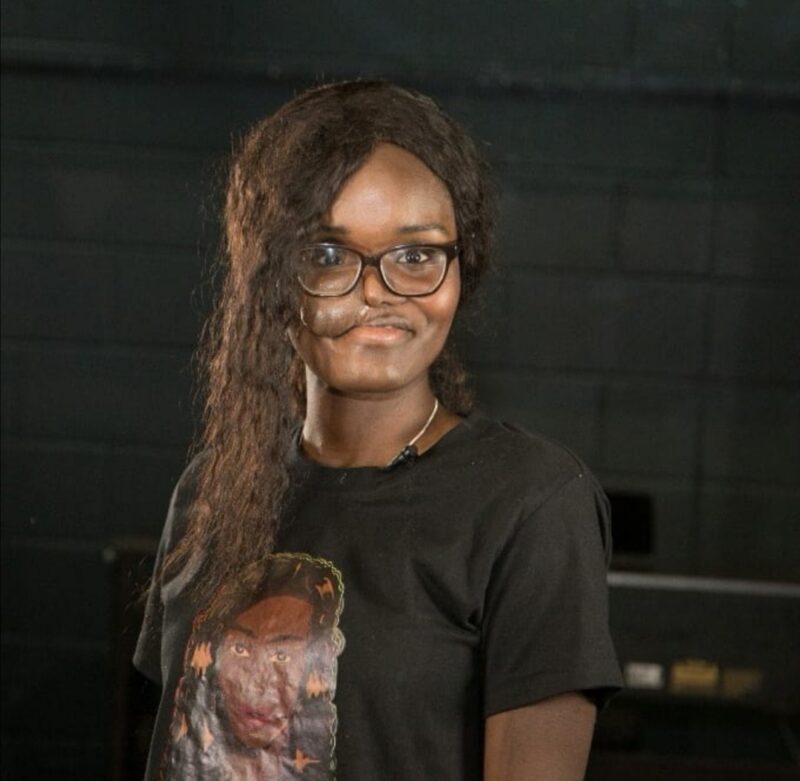 I hope that by being accepted into one of the top drama schools in the UK, it sets a foundation for more visibly different people to be inspired to apply and train to be an actor too. I want to prove to teachers, casting directors, producers, directors and the arts as a whole that people with a facial difference are more than a villain or a person who should be feared.
Please tell us a little bit about you
Hello, my name is Crystal Marshall, I am 22 years old, from the UK, and I am an actress and motivational speaker. In 2016 I was diagnosed with a rare facial bone cancer which resulted in my facial difference being a large bump on my face that was taken from my back muscle. I also have two neck scars from my reconstructive surgery and breaking tube.
What are your hopes for the future? Is there anything that you have learned from sharing your story about living with a facial difference? Is there any advice that you would give to others?
I hope that by being accepted into one of the top drama schools in the UK, it sets a foundation for more visibly different people to be inspired to apply and train to be an actor too. I want to prove to teachers, casting directors, producers, directors and the arts as a whole that people with a facial difference are more than a villain or a person who should be feared. We, as a diverse community of people, wish to be represented more widely, and the sooner we start integrating ourselves fully into an industry as influential as the arts, then I believe that dream can become possible.
I have received such kindness and support from people within and outside the facial difference community, that it makes me eternally grateful. They have shown me that my dreams are not only valid but no matter how many times my face changes, I am still loved and accepted by them. I have also learned to love, accept and appreciate myself a lot more than I ever did before, throughout my entire life. I have faced many challenges that have tested my will power as a human being, but the love and appreciation I have for myself has only grown stronger, and that makes me happy.
The advice I would give to others is to not be so hard on yourself. Treat yourself as you would a small child who you love, adore and who needs to be treated with gentleness in order to help them through their problems. If you have that mindset, whenever you start being hard on yourself, you will notice straight away how the relationship with yourself changes.
Why do you think that representation in the public eye is important, particularly for marginalised groups?
The reason why I believe it's important to have representation in the public eye is that it informs people, especially children, that human beings are multi-faceted. Whether a person has a visible difference or not, we are all different and none of us the same, but if we can highlight the differences in an informative and educational way, then I believe it can truly make us become a more accepting society.
Children are easily influenced by TV, media and movies. I believe that if a cartoon superhero with a facial difference were shown on TV helping people, then later on in life it would influence their reactions to those within the visibly different community.
Do you think the film and TV industry has a responsibility to represent people with facial differences? If so, how do you think they should be represented?
For hundreds of years of film in TV and the arts, the people behind the camera have put on various productions that mirror stories of human life. Everyone experiences love, sadness, fear, pain, anger and triumph, and that's why when movies showcase these themes, people can relate. Therefore, I believe that in this new era of TV and film where a movie like Wonder can do so well at the box office, then the time for the industry to show a representation of people with real facial differences is now.
Wonder has proven that the general population is interested in the lives of a person with a visible difference, and I strongly believe that if the industry takes more chances in producing movies, like a facially different superhero, love interest or protagonist, then It would truly benefit our society positively and authentically.
How do we, as a movement for Face Equality, make change? What would you say our main priority should be?
I would say that the mission that we as a visibly different community need to focus on is looking for where the general public is influenced, and take it from there. TV, movies, media, clothing, makeup, modelling, performing, public speaking at events and in schools will make society notice us as people, and look at us in a completely different way. Look for and encourage people who want to tell their stories through the arts or public speaking because that is the only way our stories can get heard, and more people will support us.
I applied for drama school because I wanted to prove to a big institution like drama school that although I am visibly different, I have the passion, drive and talent to act on stage and play a character. I am aware that going through this process may be challenging for some, especially when throughout life having a visible difference can hinder many opportunities, but if we show our love, support and examples of many inspiring facially different people, then I know in my heart it will inspire many.
What are your thoughts on the recent Open Letter from FEI, which addresses the offensive casting for the new Lord of the Rings series?
I am proud that the facial difference community have banded together to disagree with a type of casting that has caused immense damage to the community for a very long time. I have spoken to many friends within the community that have said the decisions that TV and movies have made to cast villains with scars and burns, have been very harmful on their
childhood lives. I believe that the more people are vocal about why this type of casting is wrong and what effects it has on the younger generation, then change will start happening.
Do you think that there should be a ban on films/TV using scars and facial differences to denote villainy?
It is difficult for me to say TV and movies should ban all villans who have a scar, because if it is essential to the backstory and overall plot of the program then I understand. However, I do not believe this is an excuse to be using the same formula of people who are facially different being bad or evil over and over again. I believe if we want to see a change in our society when it comes to people who are visibly different, create characters, stories and real people who are more than just a villain. Not all people with scars are bad, and if the general population is already aware of this, then why not make a change now?
What is it you need, to help make your dreams a reality?
This year I have been accepted into one of the top drama schools in the UK, LAMDA to further my acting training. Unfortunately, because I am doing a short course, it is not government funded which is why I need your help. I have set up a gofundme page so that I can raise funds to get me to into drama school. I want to change the industry from the inside out to make them become more inclusive for people who are visibly different. 
What part do you want to play in all of this, and why is it that you want to become an actor?
I have wanted to be an actress ever since I was six years old. I have always loved entertaining people and having the power to make them feel any emotion I wanted, and it made me happy. After my operation in 2017, I thought my acting dreams were over because I had never seen a successful actress with a facial difference before. I was upset because not only had I spent the majority of my life training in doing something I loved, there were obstacles, facts and people at every corner that proved that I couldn't be a successful actress looking the way I did.
Luckily, towards the ending of 2018, I challenged myself and said, 'Wait, why can't I be an actress? I have just as much passion, training and drive as anyone else, so why can't I at least try?'. It was at that moment that I decided to apply for drama school; one of the biggest and hardest training programs for actors in the world. I wanted to set the foundation for visibly different actors that if they feel they want to change the world, see their stories being represented in media and become an advocate for facial equality, then they can and will succeed at anything they set their mind to.
I wanted to represent facially different performers because I was at a point in my life that I had no one to look up. I hope that by succeeding in drama school, it will open the doors to many more opportunities for us as a community.
Thank you
Crystal's go fund me page can be found here: