MEDIA RELEASE: Sunday 17th March 2020
Solidarity amongst charities supporting people with disfigurements needed now more than ever 
35 charities unite for International Face Equality Week
17th-24th May 2020
This year marks the second International Face Equality Week. Global charities, from Taiwan to South Africa through North and Latin America will join forces to continue campaigning for a better, fairer world for people with facial differences.
Despite the unprecedented times stemming from the Covid-19 pandemic, 35 member NGOs of the alliance, Face Equality International, have decided to push forward with a week-long digital campaign. They will highlight the issues and prejudices people with facial differences experience, including health inequalities, online abuse, and hate crime. Campaigners worldwide have come together to provide a source of hope, a sense of community, and assurance that their rights are continuing to be fought for across policy, the media, education, and day-to-day life.
Facial disfigurement, whether congenital or related to trauma or an acquired condition, is a neglected global human rights issue. Members continue to identify amongst the people they work with feelings of low self-esteem in the global 'look-perfect' culture, isolation, bullying, staring and questioning in public places, low expectations in school, problems getting work, discrimination in the workplace, abuse on social media and stereotyping in the media. In many countries, disfigurement goes hand in hand with poverty, prejudice, and exclusion.
This year's campaign will continue to reshape the narrative around what it's really like to live with a facial difference right now, by telling real-life stories from across the globe and challenging misconceptions. With a series of films, and a social media based 'Selfie Challenge', the campaign for Face Equality strives for a world where differences are respected, valued, and celebrated.
https://www.youtube.com/watch?v=LXdUvUMsgAY&feature=youtu.be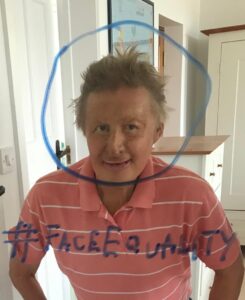 Taking a selfie, and in turn, taking a stance by sharing it with the world, can be incredibly empowering for someone with a facial difference. Members want to use this year's International Week to prove that selfies aren't about 'looking perfect' or fitting in with the crowd.
By encouraging online communities beyond those who have facial differences to take part in the campaign, the alliance wishes to create greater understanding, awareness, and solidarity for the cause. In a globalised world that tells us we should look a certain way, the aim is to prove popular opinion wrong, and show the world that you can be confident, proud, and most of all, equal. No matter what your face looks like.
Members of Face Equality International will use the week-long campaign to run virtual events, online campaigns, workshops and community-driven activities to bring their communities together. Some members will also be publishing new research and gathering evidence to continue to influence policy and decision making to better support people with disfigurements across all aspects of their lives.
"International Face Equality Week this year will be marked with many people around the world in lockdown, physically separated from their friends and loved ones. Our intention throughout the Week will be to make common cause with everyone as we endure this awful pandemic — those with facial differences and those without. All human faces should carry equal value and we hope that this Week will help to instil this 'new' face value as part of the new normal as we emerge from the pandemic." James Partridge, founder and Director of Face Equality International
"In a world obsessed with image and looks, its more important than ever to love yourself and embrace all that you are. Right now, more than ever, we need friendships, safe places and the confidence to share and open up about the things that scare us, but also that mean something important to us. Be kind, be respectful, be safe and always spread love and kindness!" Jono Lancaster, international campaigner and founder of Love My Face
ENDS
—————————————————————————————————–
Notes to editors
Media enquiries
Contact Phyllida Swift on phyllida.swift@faceequalityinternational.org or +44 (0) 7841 908852
Case studies available upon request. Remote interviews can be arranged with Dr Partridge and other spokespeople.
Support the campaign across social media by following @FaceEqualityInt