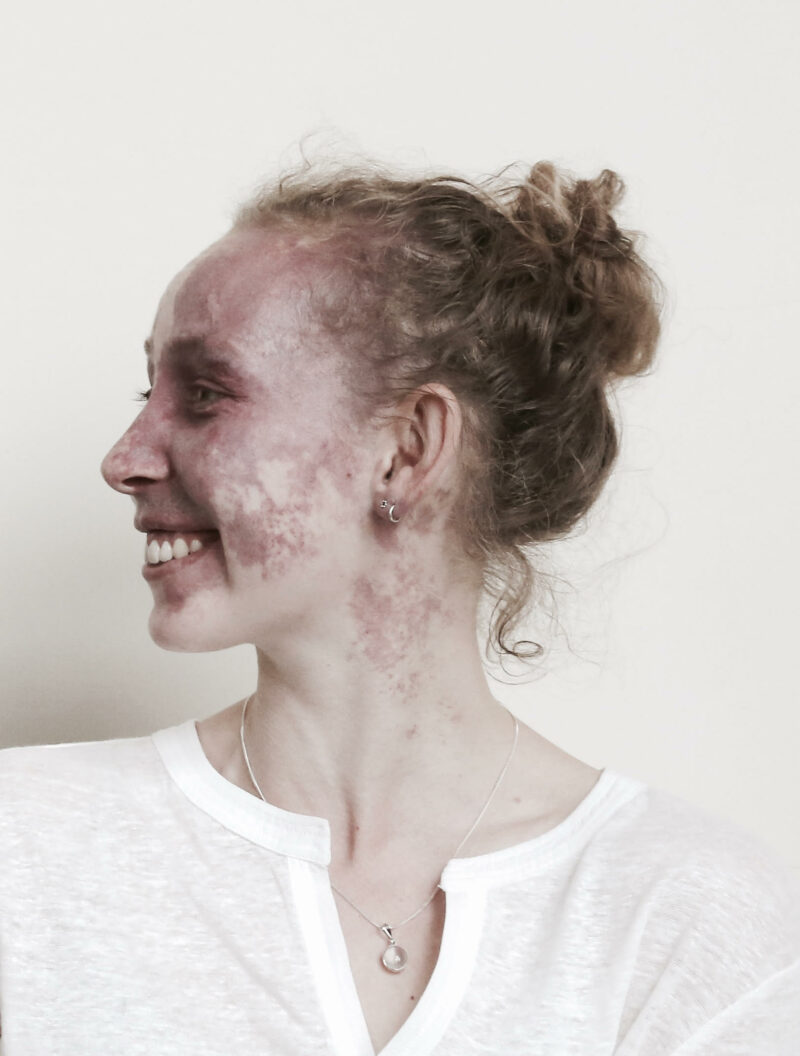 Who am I?
My name is Tessa Schiethart. I am 26 years old and I have a port wine stain birthmark on my face. It is part of the Sturge Weber Syndrome that I have, which also results in blindness in my right eye due to Glaucoma.
My Studies
Last September I continued my studies at the Vrije Universiteit in Amsterdam. I am doing a Master of Science in Culture, Organization and Management, a program that takes an ethnographic approach to studying organisations.
For this program, I have to write a final thesis and had no clue what to right on yet. One afternoon I was sitting with a friend in a cafe talking about all the inspiring courses on diversity I followed. We talked about entering the job market after studies. She asked me how I experience diversity myself with a visible facial difference. Entering the work force after studying was a theme that came to my mind more often over the last months, as I wondered how much of an issue my port wine stain would be for organisations to hire me. I had no clue, but I could of course ask others with facial difference about their experience. My thesis topic was born.
Discourse and academic research on diversity studies centres mostly around gender, ethnicity, race and age. Up until recently, there is a lack of research on the influence of someone's look when entering the work force or when in hiring processes. Lookism, the discrimination and prejudice that occurs on the basis of looks, is the main theme of my research. As lookism is still mostly known for the dispute over ugliness versus attractiveness, I took a particular approach to it by focusing on the experience of people with visible facial differences and the stigma around it.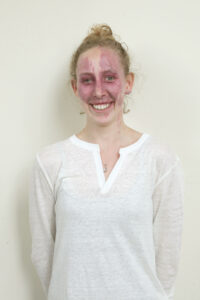 When figuring out how to come into contact with people with facial differences and have them tell me their story, my friend suggested I should share my own story in order for them to give me theirs. So I started an Instragram platform, 'To Face The World'. Through Instragram, I came into contact with people from all over the world that had a facial difference, whether it was facial paralysis, a port wine stain or Vitiligo.
I used Instragram as a method of research to observe an online field of people that spoke openly about their visible difference and to ask them for participating in my research with an interview.
Over the course of four months, I held in-depth interviews with these people and came to know their experiences on the job market. Through speaking to all these amazing people, I realised the relevance of my research and the need to talk about issues around facial difference openly. I started to use my Instragram-account to raise awareness for Face Equality, and joined the Dutch association for Face Equality,Stichting Eigen Gezicht, to strive for less discrimination against people with facial differences.
Next Steps
My studies are coming to an end, and soon I will hand in my thesis results. It has been quite a journey. Through my project To Face The World and the very personal nature of my research, the last months have been filled with self-inquiry, questioning and raising awareness. I have become much more aware of the role my own port wine stain plays in my life.
Meeting people online from all over the world, and seeing the broad field online on which awareness is raised about face equality has made me realise what a transition we still need to go through as societies in accepting facial difference and eliminating the stigma around it.
The Face Equality Movement
My studies have made me want to contribute to this movement more and speak with and for people who have a visible facial difference. The last months have made me aware of the importance of striving for face equality. Face equality for me means that our society does not treat bodies with a different facial look as unable, less, or unworthy.
I want to contribute in altering the current view in society on looks and our approach to the treatment of people with different facial looks. We all have different bodies and I think through striving for face equality, our society becomes aware of its own prejudices and stigma against facial differences. In the future, I hope to coach people with and without visible facial difference in their approach to it, and their view on it, whether it be in organisations or in societies as a whole. Being part of the face equality movement for me means investing in creating awareness about these stigmas and discriminatory practices.
Tessa Schiethart